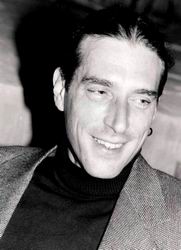 Born in Los Angeles in 1962 Paul has been painting since he was old enough to hold a brush. His parents: Victor Herman, now deceased, and his mother: Joni Di Pirro, are both artists. To view some of Victor's work click here. For Paul's mother's work click- www.dipirroartstudio.com
Paul's childhood developed his taste for travel as his parents moved from Paul's birthplace while he was still a baby, to Morocco, Sicily, Malta, eventually settling for Paul's primary schooling in Florence, Italy. Paul's father was an obsessed painter who didn't always provide his family with food, but seldom ran out of paint. Paul later studied art in London & New York, but at sixteen he had already fled the nest to find himself drawing portraits of tourists on the streets of London's Piccadilly Circus. After a long and somewhat wild youth in Holland, India, Spain, France, England and both U.S. coasts, Paul finally admitted his calling and hasn't looked back since. He claims to have never suffered a creative block nor any diminution of fascination for a white canvas or lump of marble, Paul says: "The most important painting I have ever done is always the one I am about to do."
When pressed to define his style Paul admits to roots in the Renaissance with impressionist influence, but more telling is his statement: "I remember seeing kids at University looking for their style before they even had the tools or, for that matter, anything to say. I realize I have always tried to simply, and honestly, paint what I see but as I grow older I notice I always make the same mistakes; I have decided that is my style."
Paul's portraits go beyond a simple likeness to capture the story of the sitter's life written on their faces, their postures, their gaze. His murals go beyond the decorative and his copies go beyond the surface to the techniques used by the original artist.
Paul's clients include Bel-Air and Malibu homes of celebrities I am not allowed to mention here, Saks Fifth Avenue in New York and Beverly Hills, the Ikeda museum in Japan, portraits of European nobility and murals in some of Marbella's best homes.
---